CYBER RANGES & CYBER LABS
ARE THE FUTURE OF IMMERSIVE SKILLS DEVELOPMENT.
Cyber Ranges and Cyber Labs allow immersive skills development and the ability of an employer or supervisor to provide targeted skills development training in a hands-on environment.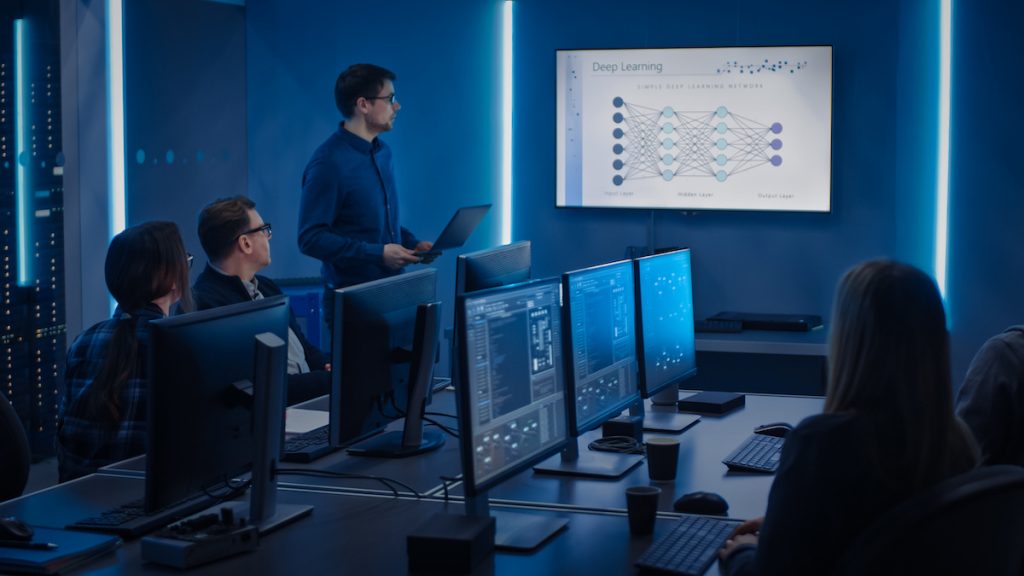 Hands on Learning for Better Skills Development
Stronger currently provides Cyber Ranges for the U.S. Government as part of an oversight program that preemptively identifies vulnerabilities in industrial and mission-critical systems and solutions before their deployment into the theatre of war. Our Cyber Range is used to test the effectiveness of different solutions, identify adverse impacts of new systems, software, and hardware prior to their deployment on an ICS Network, and provide a realistic, but safe, environment in which to test cybersecurity policies and train cybersecurity personnel.
To Mirror an Organization's Network
Stronger builds virtual machine environments that mirror an organization's systems and assets. These Cyber Ranges provide a safe environment to conduct a broad range of cybersecurity-related activities on live systems and environments without adversely affecting their mission-essential production systems.
For Higher Education & Class Training
Stronger builds virtual machine environments that allow students to learn skills and develop their learning in a real-world environment. These Cyber Ranges provide an instructor with the ability to watch skills development and provide a wide range of labs to master individual learning objectives.
CYBER RANGES
Conduct robust penetration testing and vulnerability assessments, especially on industrial control systems (ICS) and other live and critical systems that cannot have downtime.
Test the current controls and systems.
Provide hands-on training for an organization's workforce in a realistic, but controlled, sandbox environment.
Screen the efficacy of specific cybersecurity solutions and simulate how the relevant solution will behave in the client's specific configuration.
Test the vulnerability of new software to compromise.
Implement a 72-hour incident response exercise and simulate protocols for a breach.
No Software Restrictions
Clients can deploy any type of software: malware, hunt tools, red team tools, and more.
Customizable & Reusable
Clients get full control over the lab content. Assets can be provisioned in the range in an agile format and configurations saved for future reference.
Global Access
Clients can access the range where needed over an internet connection, making it a perfect solution for dispersed security teams and international collaboration programs.
IMMERSIVE LABS
If you're tired of the traditional learning environment, want to test your skills against others, or prefer a gamified training system, Stronger provides an immersive online ecosystem that up-skills users in a variety of advanced topics. The assessment platform was built by cyber operations specialists and developers, who have honed their craft on live operations. This provides a very valuable and truly immersive experience. The labs can be sold for one individual, a whole class, or a department. The overall cost is less than a traditional boot camp. Included in the subscription price are full 24/7 access to the lab environment, hands-on keyboard training, and capture-the-flag tasks.
This platform introduces hands-on keyboard challenges that mentor, train, and teach topics from master tradecraft to malware reverse engineering, network security, disk and memory forensics, vulnerability research, offensive/defensive ops, and software development.
More affordable than a Cybersecurity degree or boot camp
High-rate of knowledge retention
24/7 access to online training
Learn at your own pace
Access to private instruction
Hint system
Choose your own adventure
Ever-evolving ecosystem
Education in relevant/real-world topics
Jeopardy-style CTF Challenges
Leaderboard
24/7 Online Access
Chat Guidance
Team Building
Use Existing Tools or Bring Your Own
User vs. User
User vs. Machine
All vs. All
Badging System
Exclusive Welcome Kit